Máquina de Redes para Pesca
Escribe: WMF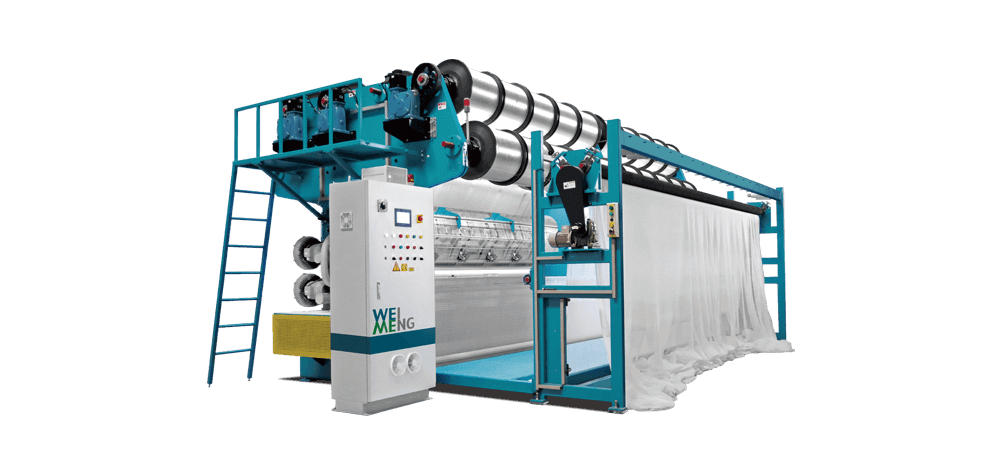 Soporte y ayuda
Si necesita más ayuda, póngase en contacto con nosotros por el formulario de consulta.
Equipped with 1 latch needle bar. 6 ground guide bars (set 1 in - 1 out), 2 pattern guide bars (for selvedge), 1 knockover comb bar, 1 sitch com bar
Provided for 6 yarn beams with 17" - 30" flange diameter. With electronic beam auto feeding system or machanical let-off system.
4 roller fabric take-up with change gear box or servo motor drive. Separate batching device with its own drive for taking up a fabric roll of up to 40" = 1016 mm dia.
Aplicación de hilado

HDPE monofilamentos, polyester, nylon.

Medidas

6 - 18 puntos por pulgada.

Sistema de suministro para urdimbre

Desde vigas para urdimbre

Rendimiento

350 - 400 RPM.

Número de barras

8 Barras base

Motor principal

4 kw - 7.5 kw.

Peso de la Máquina

6,000kgs - 9,500kgs.
Drive of the knitting elements by combined crank and special cam, which are dynamically balanced and run in oil in the machine bed. Inching drive for easier run-in and for control of knitting element.
Infinitely variable AC-motor.
Electronic guide bar system or pattern chain link system