Fishing Net Raschel Machines
Type: WMF / Fishing net machine
Our Fishing Net Machines for producing fishing net, and equipped with 1 latch needle bar.
The machine can produce different types of yarn, such as: HDPE monofilaments, polyester, and nylon.
Rich customized experience on Fishing Net Machine
Wei Meng Industrial has more than 20 years of rich experience in the production of plastic Knitting machines, insisting on the superiority of the manufacturing quality of fishing net machine, as well as the durability and stability of machine operations, and has long-term cooperative customers around the world. Suitable for all kinds of plastic materials, such as HDPE monofilaments, polyester, nylon, WM is good at meeting various demands, manufacturing fishing net machine for customers in a customized way, and has accumulated praise from customers around the world for more than 20 years.
Reasonable price of Fishing Net Making Machine
Wei Meng Industrial provide high-quality fishing net making machine from India, China, Japan, Turkey, Russia, and the Middle East and other countries for a long time at affordable prices. With the same rigorous manufacturing attitude, Wei Meng Industrial is also good at the manufacture of Shading Net Machine, Safety Net Machine, Onion Bag Machine, Agricultural Net Machine and other machines in the field of plastic net knitting machine. Wei Meng Industrial aspires to be the manufacturer and supplier of FFF machines with the most reasonable price in the plastic weaving machine industry.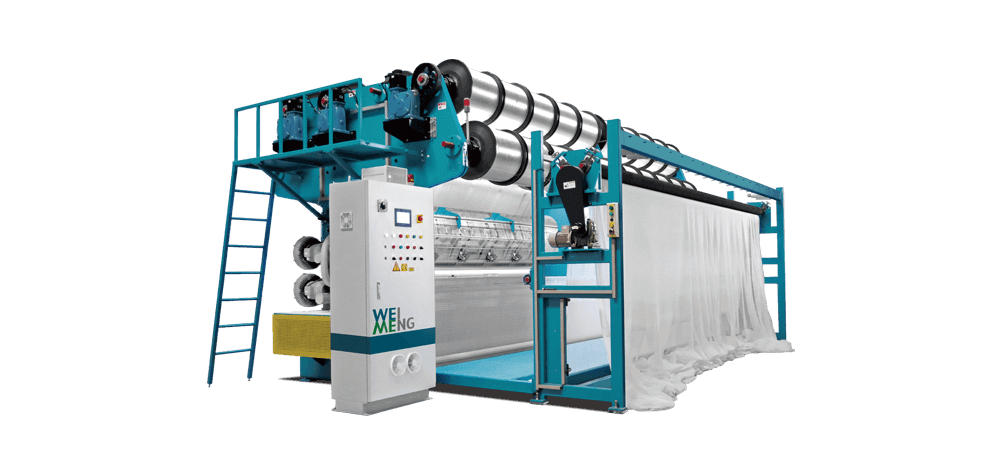 Equipped with 1 latch needle bar. 6 ground guide bars (set 1 in - 1 out), 2 pattern guide bars (for selvedge), 1 knockover comb bar, 1 sitch com bar
Provided for 6 yarn beams with 17" - 30" flange diameter. With electronic beam auto feeding system or machanical let-off system.

4 roller fabric take-up with change gear box or servo motor drive. Separate batching device with its own drive for taking up a fabric roll of up to 40" = 1016 mm dia.

Applicable Yarn

HDPE monofilaments, polyester, nylon.

Working Width

75" - 260".

Gauges

6 - 18 needle per inch.

Warp Supply System

From: Warping beams.

Performance

350 - 400 RPM.

Number of Bars

8 ground bars.

Main Motor

4 kw - 7.5 kw.

Machine Weight

6,000 kgs - 9,500 kgs.
Drive of the knitting elements by combined crank and special cam, which are dynamically balanced and run in oil in the machine bed. Inching drive for easier run-in and for control of knitting element.

Infinitely variable AC-motor.
Electronic guide bar system or pattern chain link system