Single Needle Bar Raschel Knitting Machines
Type: WMH / Shading Net Machine, Green Net Manufacturing Machine
Trusted shading net machine manufacturer
Provide the most reliable and most affordable shading Net Machine, Wei Meng is based on the rich manufacturing experience of raschel knitting machine, developed the highest quality green net manufacturing machine, and manufactured the shading Net Machine with the best shading effect. Wei Meng is your most trusted green net manufacturing machine manufacturer and supplier.
Green net manufacturing machine at affordable price
The green net manufacturing machine produced by Wei Meng not only produce excellent quality sunshade nets, but also have a wide range of applicable plastic materials. Most importantly, we provide high-quality shade Net Machine to China, India, Turkey, Manufacturers in Poland, Russia, and the Middle East at the most affordable low price.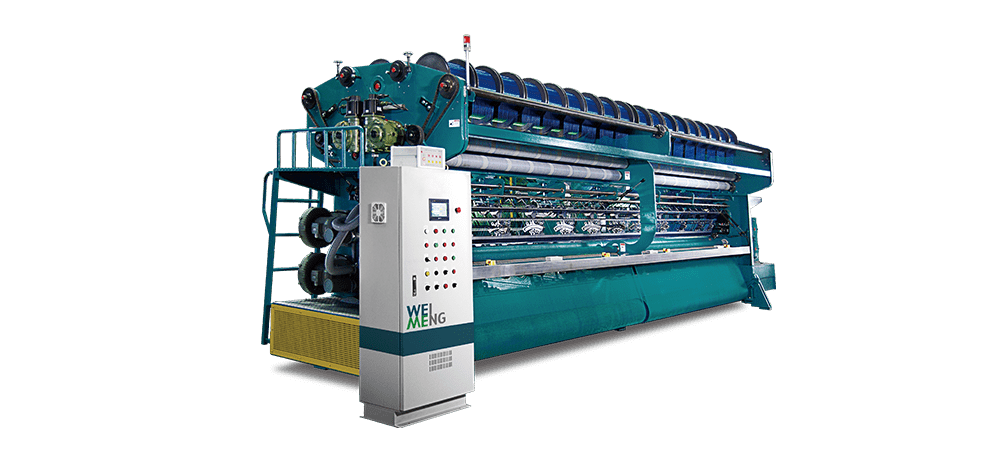 Rugged, distortion-proof welded steel construction.
Main deive by special cams, which are dynamically balanced, and run in oil in the machine bed.
Machines available for widely different applicants.
Applications from fine mesh to coarse mesh available.
Suitable for Round Yarn & Flat Yarn.
Lower investment and high returns.
Nets for agricultural, construction and sports use, such as shade net, green house net, anti-birds & wind protection net, building safety nets, scaffold net, industrial net, football gate net & packing nets (for potato, onion, fruit) etc.
4 roller fabric take-up with servo motor auto take-up system on line take-up device (take-up dia. 600 mm dia.) or seperate batching device with servo motor drive (take-up dia. up to 1000 mm dia.)

Applicable Yarn

HDPE Flat Yarn, Monofilaments, Polyester, Rayon, Nylon, TC, TR

Working Width

130" - 260"

Gauges

2 - 18 needle per inch

Warp Supply System

From: * Warping Beams / Creel Stand / Slitting Extension M / C

Performance

300 - 600 rpm

Number of Bars

2 - 8 Ground Bars (2 - 16 Pattern Bars Available)

Main Motor

4.0 kw - 7.5 kw

Machine Weight

4500 kgs - 9000 kgs
Provided 2-4 beam shaft with electronic beam auto feeding system or mechanical let-off device or 2 units yarn feeding rollers.